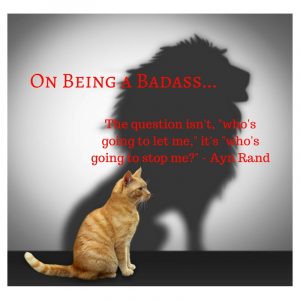 "I am a badass.
Not because I wish to be better than anyone else.
But because I choose to be the best that I can be.
I attempt the impossible so what was difficult now becomes easy.
I follow my own path, listening to my heart turning my life into a daring adventure.
I know that life is not a race to be won or lost, but a gift to be savored, nurtured, and enjoyed.
I realize that most of the people around me will not see life the way I do and that is okay, they choose to live their lives as I choose to live mine.
I understand to make the most out of my life, I need to listen to the joy in my heart and use my disciplined will to follow that joy.
I take a firm hold of my life through the five gifts of physical vitality, mental curiosity, emotion openness, spiritual connectedness, and financial abundance.
I stretch, exercise, and eat healthy foods each day because without vitality, enjoying life becomes difficult.
I walk the path of lifelong learning, constantly growing because the world is a continually changing playground.
I keep my heart open with love, compassion, and patience because love is what brings everything and everyone together.
I meditate each day because there is more to life than meets the eye and I do not know what I do not know.
And I choose to do more, have more, and be more because I am worth it.
I am a badass because I do not choose to live out of fear, worry, or doubt but instead out of love, happiness, and abundance.
I am a badass because I know that life was not meant to be watched from the sidelines but to be played on the game field.
I am a badass because I choose to be."